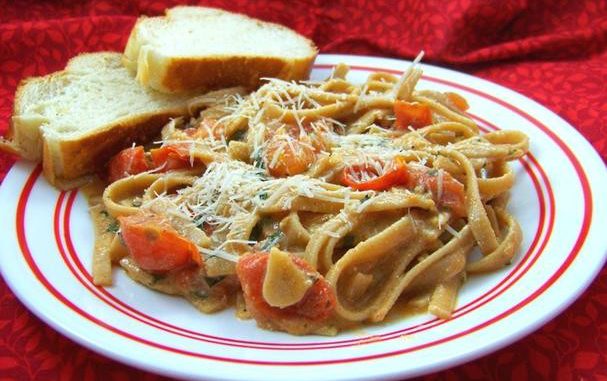 Ingredients:
2 pounds red cherry tomatoes, halved
1/2 pound tomatoes, cut into eighths
1 tablespoon olive oil
3 tablespoons vegetable broth
3 cloves garlic, sliced thin
1 tablespoon balsamic vinegar
3/4 teaspoon salt
1/2 teaspoon fresh ground black pepper
1 teaspoon red pepper flakes
1/4 cup fresh basil, cut chiffonade
2 tablespoons fresh flat-leaf parsley, chopped
1 tablespoon fresh oregano, chopped
8 ounces low-fat ricotta
1/2 cup pecorino cheese, finely shredded
12 ounces (dry) whole wheat linguine
Instructions:
Preheat oven to 350F.
In a large baking dish, preferably glass, combine tomatoes, oil, broth garlic, vinegar, salt, pepper, and pepper flakes. Place on the oven's middle rack and roast, stirring regularly, until tomatoes are tender, about 45 minutes. Remove from the oven and combine with basil, parsley and oregano.
Meanwhile, prepare linguine, straining 2 minutes before recommended by package directions.
Return linguine to the pot, add tomato mixture and continue to cook for another 2 minutes. Add the ricotta and stir in until melted and smooth.
Serve topped with pecorino.