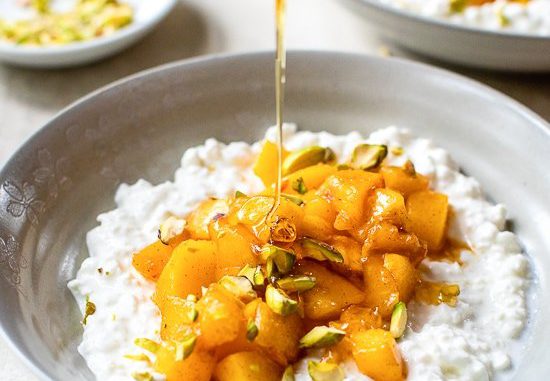 Peach Pie Cottage Cheese Bowls is a delicious, high protein breakfast made with fresh, ripe summer peaches.

Peach Pie Cottage Cheese Bowls
Cottage cheese topped with fresh fruit is a quick and healthy breakfast or snack. It's such a great combo, cottage cheese brands (like my favorite Good Culture) sell it that way.  But if you look closely, there really isn't much fruit in them.  These Peach Pie Cottage Cheese Bowls, on the other hand, are loaded with fresh ripe summer peaches that are lightly caramelized with a little brown sugar and hint of cinnamon.  With only about 2 grams of added sugar (the rest is from the fruit) and a whopping 31 grams of protein, these bowls keep you satisfied and are sure to make it into your weekly rotation. More cottage cheese recipes I love, Savory Cottage Cheese Bowls, Burst Tomato Cottage Cheese Caprese, and Scrambled Eggs with Cottage Cheese.
The post Peach Pie Cottage Cheese Bowls appeared first on Skinnytaste.
Skinnytaste
Read More