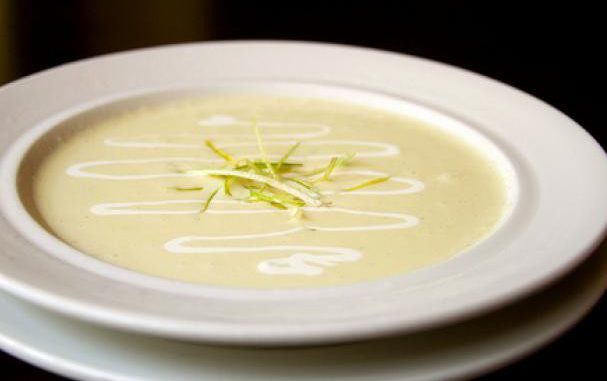 Ingredients:
4 cups sliced leeks, white part only
4 cups diced potatoes, new or baking potatoes recommended
6 to 7 cups water
1 1/2 to 2 teaspoons salt or to taste
1/2 cup or more sour cream, heavy cream, or crème fraîche, optional
1 Tablespoon fresh chives or parsley, minced
Instructions:
Bring the leeks, potatoes and water to the boil in the saucepan. Salt lightly, cover partially, and simmer 20-30 minutes, or until the vegetables are tender.
Purée the soup if you wish. Taste, and correct seasoning.
After chilling the soup, you may wish to stir in a little more cream. Taste carefully again, and correct the seasoning.
Top each serving with a sprinkle of chives or parsley and a drizzle or dollop of crème fraîche.