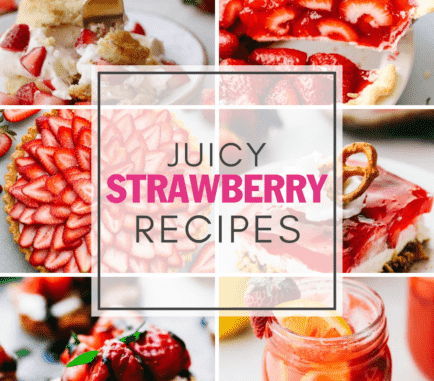 Strawberry recipes are the absolute best! Juicy, plump, and red, this strawberry recipe roundup has everything and will give you something new to try all season long!
When the weather turns warm then you know that strawberry season is just about upon up. You can use strawberries in just about anything but some of my favorite recipes are strawberry tiramisu, these yummy strawberry cupcakes, and this delicious strawberry pretzel salad!
Strawberry Recipes
If you love strawberries as much as I do then this post is going to be your favorite! I looooove when it starts to get warm outside and the sun is coming out more! It means that SUMMER is coming and I am here for it!! Not only are there so many fun things happening with my kids and our family but the food is absolutely unbeatable! Fresh, delicious, and SOO GOOD, strawberries are one of my favorite fruits. I add them to just about anything and it instantly becomes better!
You would think that after all of these years that strawberry recipes would be old news but it's just the opposite! I am constantly coming up with more and more ideas on what they would be good in. It just keeps getting better and better! I have rounded up all of my favorite tried and true recipes that I know that you will love! Ranging from delicious salads to sweet desserts, these strawberry recipes are the absolute best!
Originally Posted on May 6, 2015
Updated on July 5, 2022
The Recipe Critic
Read More