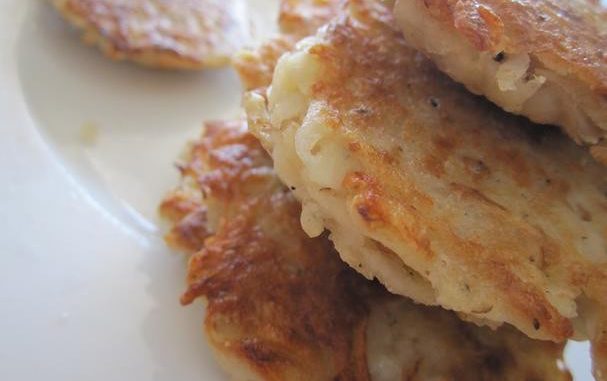 Ingredients:
1/2 teaspoon cayenne
2 large eggs
1 teaspoon garlic powder
1 teaspoon onion powder
2 onions grated
3 large potatoes peeled and grated
2/3 cup rice flour
salt and pepper
Instructions:
As you grate your potatoes have a large bowl of ice water ready to put then in so that they do not brown.
Add all other ingredients to another bowl without mixing. Drain potatoes well and then place on either a thin towel or cheese cloth and squeeze as much of the liquid out as possible, then add to the rest of the ingredients and mix. Use your hands to bring mixture together and make into small flat pancakes. If the mixture is too wet and will not form then add a bit more flour. Add 1 or 2 tablespoons of olive oil to a very hot frying pan and fry one side of the pancake until crispy and brown. Flip and cook the other side. Serve these hot with apple sauce or sour cream.