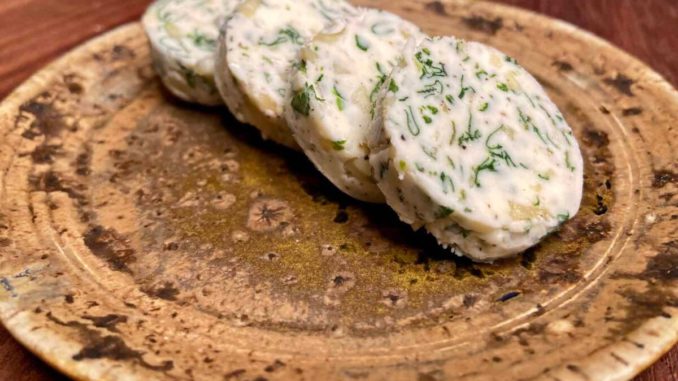 by Erich Boenzli 4 Comments
Garlic herb compound butter is one of the easiest, tastiest, and most versatile condiments you can whip up in minutes. Use it on anything from steaks and fish to vegetables, like grilled corn and baked potatoes, and don't forget to try it on some french baguette!
Compound herb butter is softened butter, mixed with herbs and spices. A simple concept with endless possibilities. Over the years, I've tried a lot of different combinations and here's my favorite, especially for meats: parsley, sage, garlic, and lemon juice. Plus salt and pepper. 
I always have fresh sage in my herb garden, even in the middle of winter. 
Play around, use your favorite herbs and spices. Add some hot sauce. Make it sweet by adding orange zest or maple syrup. Try honey. How about cinnamon? 
In this article, I'll give you the recipe for my go-to compound herb butter to get you started, and then it's up to you. Create your own. Give it a name. Serve it at your next BBQ.
When your friends salivate over this compound herb butter and ask where you bought it, just smile and say "Oh this? I came up with it myself."
To get started, grab a stick of butter (I use unsalted butter to better control the seasoning) and let it sit out at room temperature until it has softened a bit. In a bowl, mash the softened butter with a fork. Add all your spices and herbs and mix everything together with a fork. Use either parchment paper or plastic wrap and form it into a log. It's fun and a bit sticky, but after a few tries you'll get the hang of it. 
Chill the finished compound herb butter for a couple hours. I was in a hurry the other day, so I put it in the freezer for about 30 minutes and it worked just fine. Take it out, cut some slices, and serve over warm steak, or anything else. It's delicious! 
Please let me know what you came up with. I'm always open to new ideas, and sharing is caring. 
Cool Facts About Sage
Sage (Salvia offcinalis) is a member of the mint family

It is a perennial shrub, measuring about 2 feet high, and has over 500 varieties

Its flowers are fragrant, usually purple or blue, sometimes white, red, or pink

They are rich in nectar, and its honey is in great demand in Europe because of its spicy flavor

During the 17th century, the Chinese exchanged three or four pounds of their tea with Dutch traders for one pound of European sage leaves

For most of its long history, sage has been a healing herb (supposedly curing everything from snake bites, eye problems, infection, epilepsy, intoxication, memory loss, worms, and intestinal problems) or prescribed as an aphrodisiac

Sage leaves are also used to flavor vermouth and various bitters

For years, it has been used in the preserving of foods

We now know that sage contains powerful antioxidants, which slow spoilage

Sage is also antibacterial in nature, is effective in treating sore throats, and is even effective as an antiperspirant

It was believed that sage stimulated the brain, therefore increasing powers of concentration, memory, and reasoning; from this, the word "sage" took on another meaning – wise person

In nineteenth-century America, sage was rubbed onto the teeth to make them whiter


Source: foodreference.com
Did you make this Compound Butter recipe? Let us know in the comments below!
Garlic Herb Compound Butter
Garlic herb compound butter is one of the easiest, tastiest, and most versatile condiments you can whip up in minutes. And it's delicious on everything!
Ingredients  
½

c

(1 stick) unsalted butter

2

tablespoon

parsley, finely chopped

1

tablespoon

sage, finely chopped

1

clove

garlic, minced

2

teaspoon

lemon juice

¼

teaspoon

salt and pepper (or more to taste)
Instructions 
Mash the softened butter in a bowl with a fork

Add parsley, sage, garlic, lemon juice, salt and pepper and mix together with butter using a fork

Spoon the butter onto a piece of plastic wrap or parchment paper

Roll into a log and twist the ends

Chill for at least 2 hours in the fridge

Calories: 104kcal | Carbohydrates: 1g | Protein: 1g | Fat: 12g | Sodium: 75mg | Potassium: 15mg | Fiber: 1g | Sugar: 1g | Vitamin A: 439IU | Vitamin C: 2mg | Calcium: 10mg
Content and photographs are copyright protected. Sharing of this recipe is both encouraged and appreciated. Copying and/or pasting full recipes to any social media is strictly prohibited.
Reader Interactions