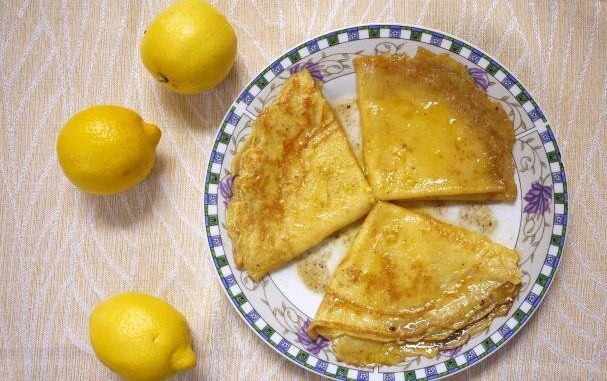 Ingredients:
4 tablespoons butter
3 large eggs
1 1/2 cups all-purpose flour
1/4 cup freshly squeezed lemon juice
1/2 tablespoon lemon zest
3/4 cup cold milk
pinch of salt
1 tablespoon sugar
1/2 cup unsalted butter
3/4 cup cold water
1/4 cup white sugar
Instructions:
Combine all liquid ingredients in a blender. Add the dry ingredients and melted butter; mix on high.
Stain batter. Let rest for 30 minutes
Heat a nonstick 10 inch skillet over medium high heat. Brush bottom and sides of pan with melted butter.
Ladle 1/2 cup batter into skillet and swirl to coat bottom evenly. Cook until lightly browned, about 1 – 2 minutes. Using a spatula or your fingers, flip the crepe and cook the other side until lightly browned, about 30 seconds to 1 minute.
Transfer crepes to a platter. Layer crepes over each other with parchment paper in between.
Instructions:
Melt the butter in a skillet over LOW fire. Add the sugar and allow to melt. Be patient. Make sure that the heat is at its lowest. Add the lemon juice and mix well. Add the lemon zest.
Add the crepes, 3 – 4 at a time and allow to cook in the sauce for 1 minute. Remove from the pan. Arrange on a plate and pour the sauce over the crepes and serve warm.