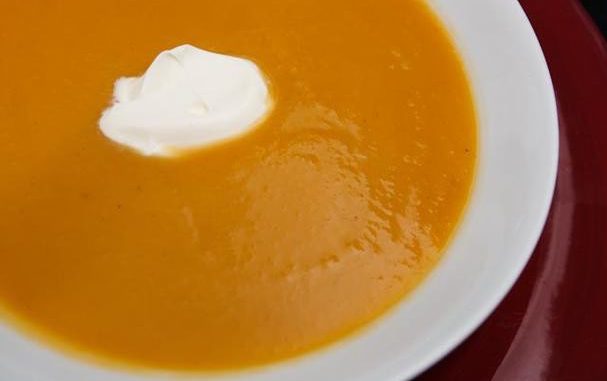 Ingredients:
2 pounds peeled seeded butternut squash, cut into 1-inch cubes (about 6 cups)
2 tablespoons of neutral flavored oil such as canola
2 apples, preferably macintosh or golden delicious
1/4 teaspoon of nutmeg, preferably freshly ground
Salt and pepper to taste
1 large onion, preferably a sweet variety
2 cups Vegetable Stock
Instructions:
Pre-heat oven to 450 degrees Fahrenheit
Cut off 1/4 inch from top and bottom of butternut squash. Peel with vegetable peeler until the orange flesh is visible. Cut squash in half. Requires sharp knife, some force, and much care! Remove seeds and fibrous material. Cut into roughly equal sized pieces. Place in large bowl.
Rough chop onion, place in bowl with squash.
Add oil and stir to coat ingredients. This will aid in the browning of the vegetables.
Place in single layer on sheet pan and roast for approximately 45 minutes or until slightly browned.
Remove from oven
Add stock to large pan
Core, peel and chop apples. Add to stock.
Add butternut squash and onions to stock.
Add nutmeg and season with salt and pepper.
Bring to boil and reduce to simmer. Let soup cook for 20 minutes.
Puree soup with an immersion blender or in batches in regular blender. Do not overfill blender as hot soup will expand!
Check for seasoning
Ladle into bowl and garnish with a dab of creme fraiche if desired.
Spoon into mouth until desired level of comfort is reached.