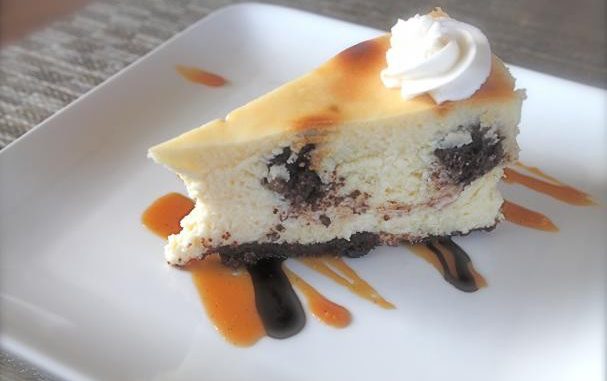 Ingredients:
1-1 1/2 cups dry chocolate cake or cookie crumbs, depending on how much crust you like
2 pounds cream cheese, at room temperature
2 eggs
1 1/2 cups granulated sugar
@16 1/2- 3/4 inch brownies
A pinch of salt
1/2 cup sugar (add another 1/4 to 1/2 cup if you like it sweet)
1/2 cup unsalted butter
1 teaspoon vanilla
Instructions:
Mix the crumbs, sugar and butter together in a large mixing bowl, until the crumbs clump together when gathered in your fist
Pat the crumbs in an even layer in the bottom of an 8 x 3 inch springform pan
Place the pan in a 325 degree oven and bake for 10 minutes, until the crust is firm.
Allow the crust to cool completely on a rack.
Wrap the pan with the crust twice with heavy duty aluminum foil
Place the sugar, then the cream cheese, vanilla and salt in the large bowl of a stand mixer. Mix on low speed, until the cream cheese is completely smooth. BTW, I use Philadelphia Cream Cheese as I find it the smoothest.
Add the eggs, one at a time, mixing them in completely after each addition.
Pour one third of the cream cheese mixture into the prepared pan. Add a third of the browinies, then pour in another third of the cream cheese mixture. Repeat with anothe third of the brownies, then pour on the remianign cream cheese mixture. Stick the rest of the brownies into the top of the cheesckae, pushing them down into the mixture slightly.
Place the preapred and filled pan in a larger pan, then pour in enough hot water to come up to half of the pan's height.
Bake at 325 degrees for about 1 1/4 to 1/2 hours, or until it is mostly set. Turn of the oven, then leave the cheesecake in the oven,placing a large wooden spoon in the oven door, so that it remains slightly open. Allow the cheeecake to cool in the open oven for about an hour, then cool completley on a rack. When it's cool, wrap it very well, and cool in the refrigerator for several hours.
To unmold the cake, wipe the sides and bottom of the pan with a hot, damp towel. Run a thin metal spatula around the edge of the pan. Release the spring, then lift the cake still on the on the removable bottom from the sides of the pan. Flip the cake gently onto a cardboard round or flat platter, remove the bottom, then flip it over onto another cardboard round or flat serving platter.