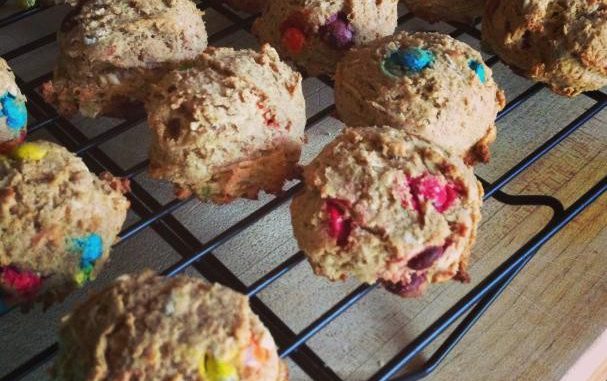 Ingredients:
1 1/2 cups stone ground whole wheat flour
1 Tbsp baking powder
1 large egg, lightly beaten
1/2 cup packed light brown sugar
mini m&ms
a pinch of salt
1/2 cup steel cut oats
1/2 stick of unsalted butter, room temp
3/4 cup unsweetened applesauce
1 tsp vanilla
Instructions:
In a large bowl, using a hand mixer, cream together the butter and brown sugar until well combined.
Add in the egg and vanilla and again mix to combine.
Mix in the applesauce and combine. It will look a little broken but thats ok!
In a small bowl combine the flour, oats, baking powder and salt.
Slowly combine the dry mix into the wet until it just comes together, do not over mix!
Using a spoon fold in the m&ms or dried fruit 😉
Using a small cookie scoop place the cookies onto a lined baking sheet. Bake for approx 12-14 minutes at 375 degrees, until lightly golden. These cookies will not change shape much because there is so little fat in there. So scoop out and press down lightly if you want them to flatten a bit.
Now grab a glass of milk and DUNK!